Institute of Art History of Slovak Academy of Sciences was established in 1990.

Origin:
1953 - Department for Theory and History of Art, Institute of History SAS
1955 - Department of Theory and Art History SAS
1967 - Institute of Theory and Art History SAS
1973 - Division of Art-Historical Institute SAS
1990 - Institute of Art History of SAS
&nbsp &nbsp &nbsp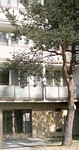 Institute of Art History SAS concentrates on a research into the Slovak art history and architecture and their international context. The subject involves an investigation into painting, sculpture, handicraft and architecture since Middle Ages till 20th Century; an analysing of a historical development, international relations, iconographical motives, social bounds and theoretical aspects of history of Slovak art. Results of the research are published in a form of monographs or as journal studies (see staff).
The Institute is a publisher of art-historical journal ARS.
The Institute of Art History of SAS is a member of the international association RIHA (Research Institutes in the History of Art).